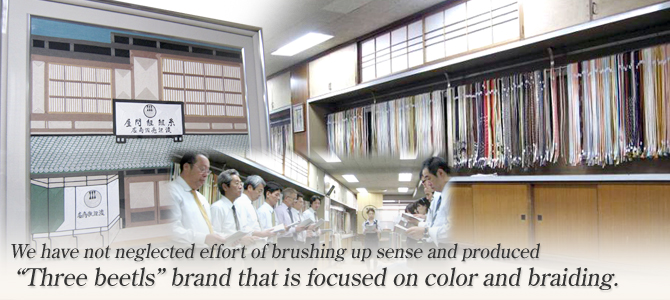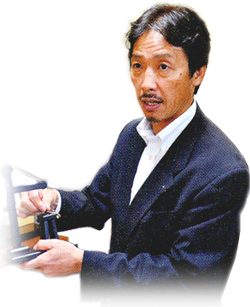 Watakei-color for 88 years and beyond
Because Obijime and Obiage are the crowning touches for kimono, we never compromise on our products. As a company instrumental in creating the culture of Kumhimo, Watakei has provided customers with the most suited Obijime with special attention to braiding and coloring for three generations maintaining the Three-Mallet brand.
This brochure provides those who are related to our business with further understanding of Watakei and our products. We aspire to be a leading company in our industry, balancing preserving the "Kumihimo culture" and challenging the needs of the customers today.
We continue to re-examine our 85-year experience and wisdom and apply them to our employee training, product development and company management.
With our gratitude to the society and our great partnership with customers, suppliers and craftsmen, we will develop a system to deliver our Obi-jime, Obi-age, shawls, bags, and Japanese sandals to our customers. We will also transition our products characterized by our unique coloring and fabrics to the next generation. We are grateful for this opportunity to introduce ourselves and our products here in Paris. We look forward to our relationship. Thank you.


Exhibited at "Meson & object" in Paris.
Since 2010, Watakei has participated in the "KYOTO PREMIUM" to advance brand's values and to establish the international business in the field of lifestyle traditional industry, and challenged to expand the overseas market by product development and brand promotion making use of the Kumihimo technology.


Company Name

Watakei Co., Ltd

Initiation

1925

Established

1955

President

Issho Watanabe

Employees

18

Capital

¥12,000,000

Sales

¥361,000,000 (2010)

Business

produce and distribute accessories for Japanese dress (Kimono)

Outline

110, Nishirokkaku-cho, Rokkakudori, Shinmachi-nishi sagaru, Nakagyo-ku, Kyoto, Japan 【→access map】

Sales Office

(1) Initiation & Growing Period, 1925 - 1966
1925, July

Initiation At the age of 29 as a branch of the Hotsumi-ya Joshichi Company, Ryutaro Watanabe started a private company at Horikawa Nakatachiuri, Kyoto to produce the tassels of Japanese fans for Miyawaki Baisenan.

1955, March

Incorporated a business as Watanabe Kei Co., Ltd.
(¥3,000,000 in capital)

1962, March

Yasuhide Watanabe became the second president.

1966, October

A new four–story corporate building completed.
(2) Prosperous Period, 1966-1992
1972, June

Entering the prosperity phase
Became well-known as 'Watakei of Kumihimo (braid)' in the industry.
Awarded by the tax office as a good taxpaying company.

1980, June

Contribution to the industry
Became chair person of the board of the Kyoto Kumihimo Association.

1983, August

Affiliated company established
Established Ichiryu Co., Ltd.
(3) Stable Period, 1992- to date
1992, September

Company Name Change
Changed the company name to Watakei Co., Ltd.

1998, July

Business Succession
Issho Watanabe became the third president.
Put more focus on employee training.

2000, February

Our products featured in Kimono specialized magazines.
(HASHETTE FUJINGAHO, the major publisher which is a subsidiary company of Lagardère Active Group.)

2007, April

Downturn in industry
The industry fell into the doldrums and big drapers went bankrupt.
Started selling mobile phone straps

2010, April

Development of new customers
Started to focus on developing new customers.

2011, January

First exhibition overseas
Exhibition at Mitsukoshi Etoile, Paris
Watakei Co., Ltd.
110, Nishirokkaku-cho, Rokkakudori, Shinmachi-nishi sagaru, Nakagyo-ku, Kyoto 604-8217, Japan
Phone : +81-75-221-1708 Facsimile : +81-75-221-7199
URL : https://www.wata-kei.co.jp/eng/